Nashville Party Bus Pricing
Nashville Party Bus Pricing
Budget Your Nashville Party Bus
Nashville Party Bus pricing can be confusing. We've helped simplify the process by compiling all of the Nashville Party Bus prices into an organized chart.
Honky Tonk Party Express
$595 + fees || 2-Hour Tour || Shuttle Service Available
Voted "Nashville's best party bus" by TripAdvisor & Nashville Guru our custom-built, open-air party buses, are best described as "Mardi Gras meets Nashville." Your party bus comes complete with a large bar, coolers, ice, cups and a VIP bartender. Equipped with an impressive sound system, get ready to experience Nashville to the best music or your very own custom playlist. A large LED-lit dance floor with large benches for dancing will ensure you and your party become "Nashville Famous." We do all this with no roof! That's why they call us the ultimate party bus!
If your friends or company are looking for a truly unique Nashville experience...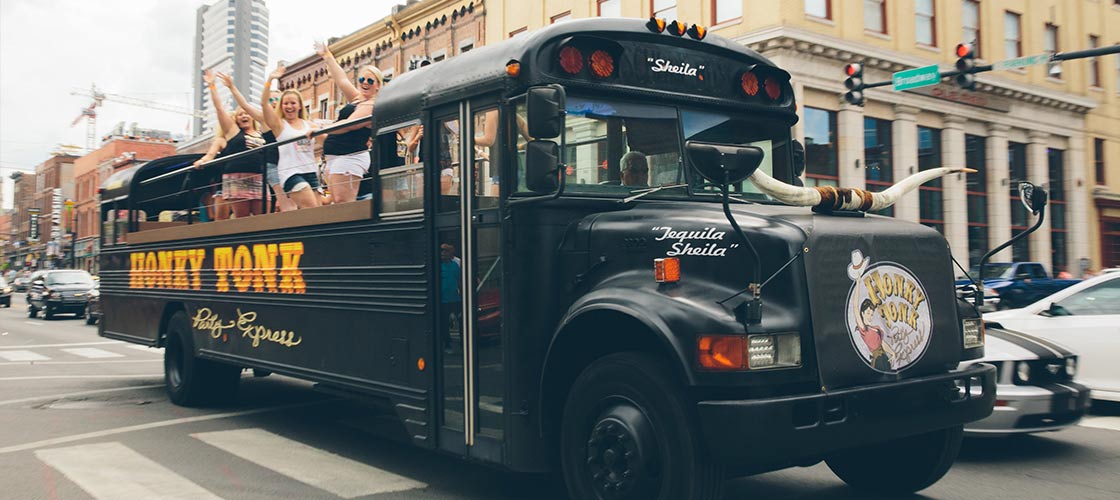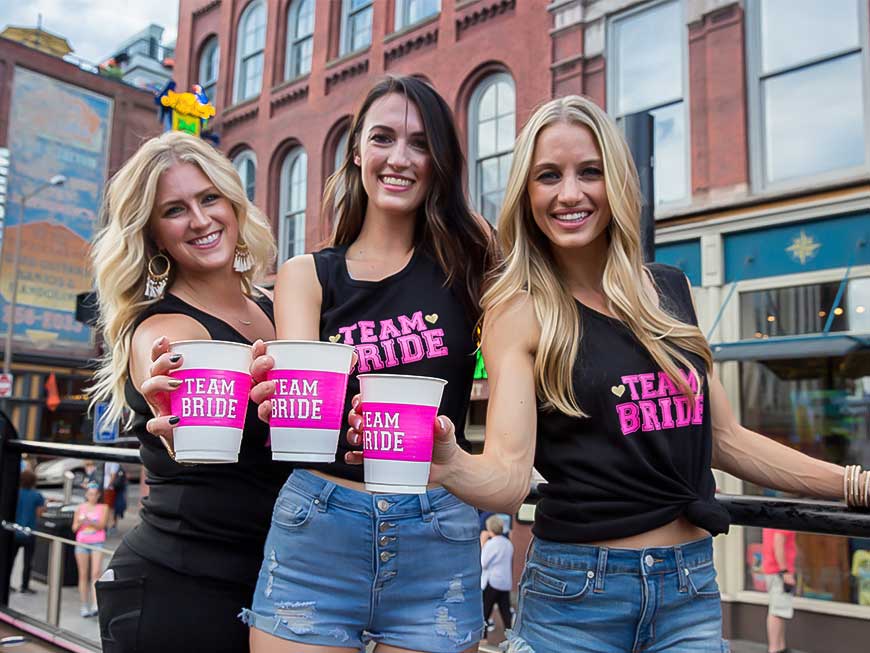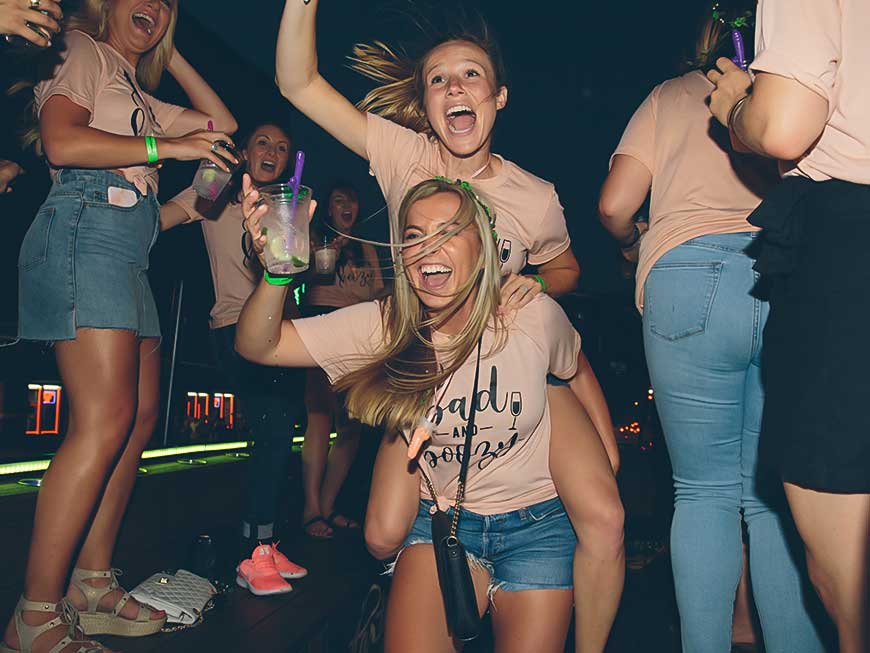 Nashville Party Bus Pricing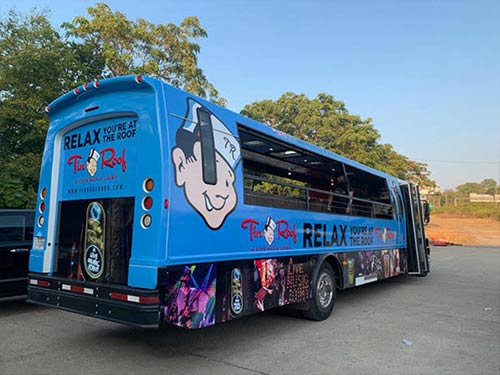 Joyride Party Bus
$495 + fees || 2-Hour Tour
Nashville has something for everyone, and our tours take you to the best spots in the city. Our specialty tours, party bus tours and golf cart tours are the best way to explore Nashville.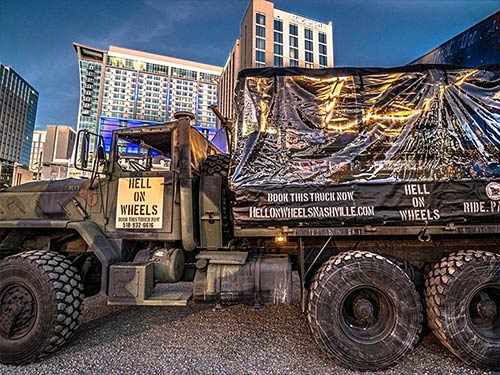 Hell On Wheels
$450 + fees || 1.5-Hour Tour
Get ready to party through Music City on the biggest, baddest military trucks in town while giving back to the Homes For Our Troops charity! Saddle up and get rowdy with the following: VIP party concierge, worlds loudest wireless sound system, cups, cooler, ice, and the best party playlist on Broadway!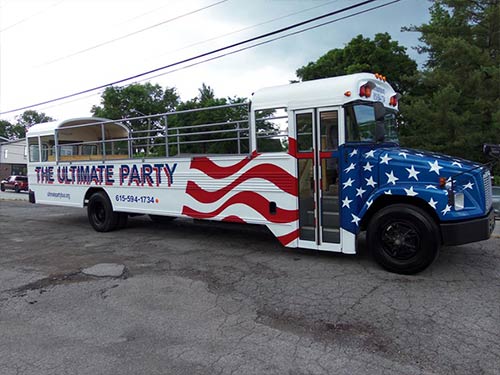 Ultimate Party Bus
$495 + fees || 2-hour tour
Climb aboard Nashville's Ultimate Party Bus and have the time of your life!! Upon arrival you will be greeted by our friendly staff to get your drinks on ice and enjoy 2 hours of fun and excitement. Our mission is to provide you with The Ultimate Party Experience in Nashville so Book Now and come party with Nashville Ultimate Party Bus.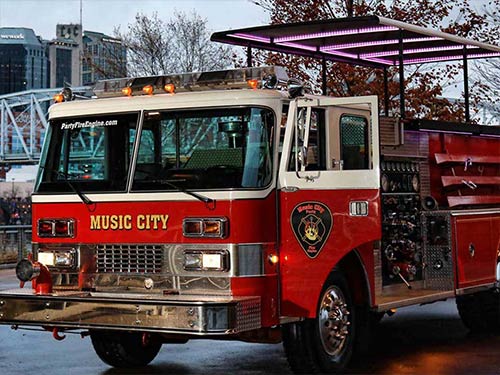 Music City Fire Engine
$475 + fees || 2-hour tour
Our one-of-a-kind party bus is decked out with a massive professional sound and lighting system to get your party started and keep it going while on the Nashville scene. So if you are planning a bachelor or bachelorette party, birthday party, ultimate night out on the town or any other kind of party or celebration, Music City Party Fire Engine is your "Code 3" response to fun.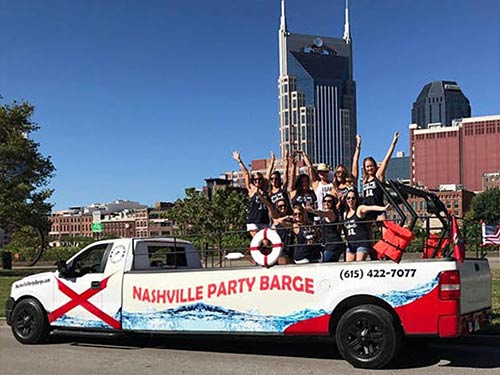 Nashville Party Barge
$630.00 + fees || 2-Hour Tour || 18 Guests
Nashville Party Barge is one of Nashville's top BYOB party bus tours and the most unique tour of Music City. We offer a two-hour party tour with an open-air concept, allowing you to feel the breeze on your face while you enjoy chilled drinks. Jam out to your favorite tunes as you "float" down Broadway with 360-degree views. We provide you the cups, cooler, ice, and the opportunity to make memories with your friends and family.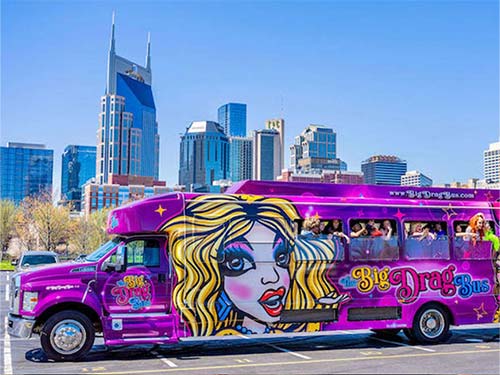 The Big Drag Bus
$1,000 + fees || 2-Hour Tour || 25 Guests
We are Nashville's ONLY Party Bus where Drag Queens are your guides! Sip on beverages while enjoying a cruise filled with ice breakers, performances, laughing, singing, & dancing in downtown Nashville. Whether it's a Bachelorette, Birthday, Divorce, Going-Away party, or simply a Saturday—Big Drag Bus is the perfect plan.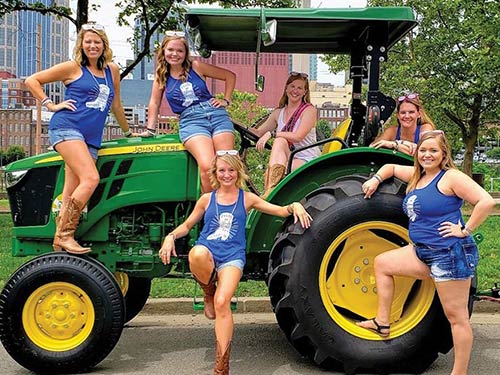 The Big Green Tractor
$750 + fees || 2-Hour Tour || 25 Guests
Whether you're looking for a quiet scenic tour with family or you're looking to start the weekend on our one-of-a-kind BYOB party wagon, we're your spot for everything you need. Our tours take up to 25 people across the entire landscape of downtown Nashville.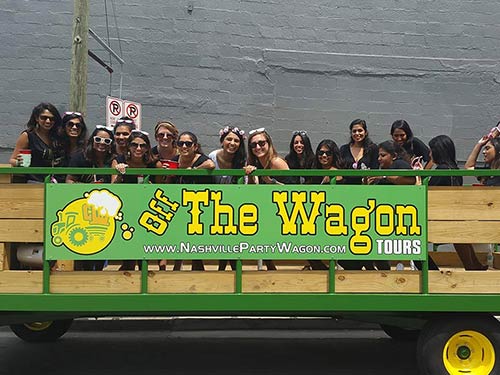 Off The Wagon Tours
$500 + fees || 1 Hour 45 Min Tour || 20 Guests
The Nashville Party Wagon is the place to be! Come experience Music City and our Nashville tractor tours. Bring your bachelorette party, birthday party or corporate event and lets get the party going. Before you go to the honky tonk to party, come pregame with us.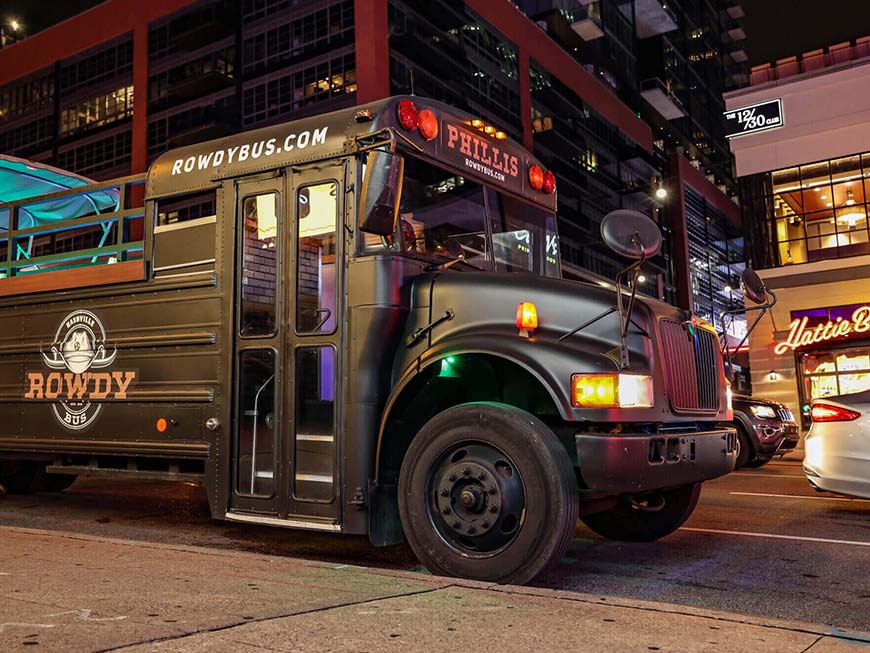 Rowdy Bus
$495 + fees || 2-Hour Tour || 25 Guests
The Rowdy Bus is the Nashville party bus that will ensure you have a great time regardless. The bus is versatile enough to work for birthday parties, bachelor parties, corporate events, and much much more. You can even book a single seat to enjoy the atmosphere with a few friends or a bunch of fun people you just met.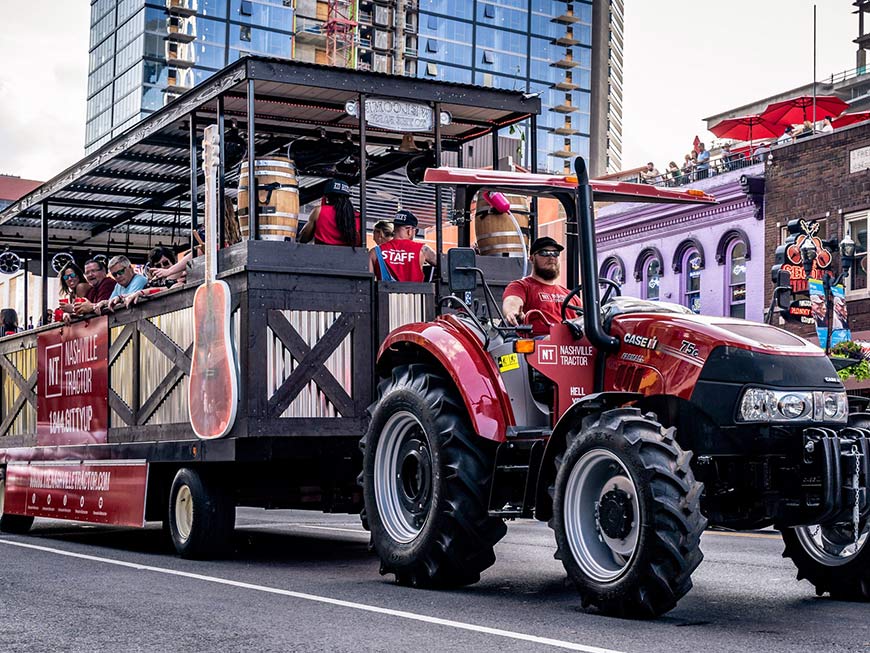 Nashville Tractor
$495 + fees || 75 Min Tour || 30 Guests
The Nashville Tractor operates Nashville's biggest Tractor Party Wagons. We are the only rolling entertainment where you get non-stop partying and dancing for 75 minutes! These monster wagons have been featured in numerous music videos, news stories and reality shows on MTV like Siesta Keys. Hell yes, Size Matters, when it comes to partying so party big.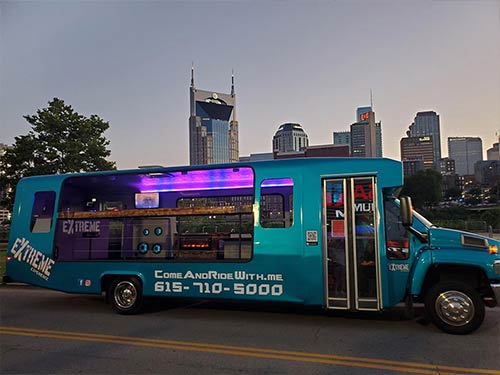 Extreme Party Bus
$450 + fees || 2-Hour Tour || Shuttle Service Available
If You Are Looking For An Extreme Experience We Can Help. The Bus Has A Roof For Cover With 14 Foot Open Picture Windows On The Sides, Making It Easy For Everyone To Party Along . You Can Charge Your Phone Using One Of The 17 USB Chargers Connected To Your LED Lighted Cup Holder. Our Custom Made Sound System Plays Your Favorite Playlist From Our LED Lite Speakers. The Only Bus In Nashville With A Fireplace Feature For Cooler Weather And Plenty Of Room For Dancing And Singing!
Do You Need a Ride to Your Party Bus?