NASHVILLE'S
TOP 8
PARTY BUS
EXPERIENCES
Party buses in America are more popular than ever and Nashville is the best place to see why.
Party buses in America are more popular than ever and Nashville is the ground zero to ride the wildest and newest party bus creations. The traditional party bus as you know it is out. Open-air party buses are the newest must-dos that are part bar, part dance floor, and part outdoor concert. Whether it's your Nashville bachelorette or bachelor party, a company outing a friend's birthday party, or just because, these Nashville party buses are truly something you must do to fully appreciate. There are dozens of Nashville party bus companies to choose from which is why we compiled this list of the 8 best part buses to make booking your next trip to Nashville easy and pain-free.
2-Hour Tour || 25 Guests || Bartender || BYOB || Shuttle || Private Bathrooms for Guests
---
---
Voted "Nashville's best party bus" by TripAdvisor & Nashville Guru our custom-built, open-air party buses, are best described as "Mardi Gras meets Nashville." Your party bus comes complete with a large bar, coolers, ice, cups and a VIP bartender. Equipped with an impressive sound system, get ready to experience Nashville to the best music or your very own custom playlist. A large LED-lit dance floor with large benches for dancing will ensure you and your party become "Nashville Famous." We do all this with no roof! That's why they call us the ultimate party bus!
If your friends or company are looking for a truly unique Nashville experience...
Arrive to your Party Bus in Style!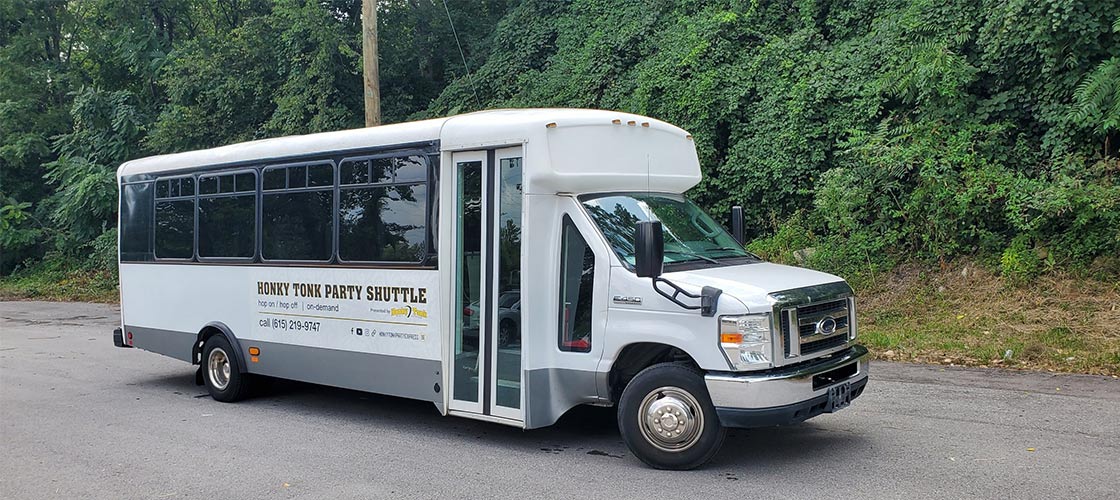 ---
---
Honky Tonk Party Shuttle is Nashville's most unique, hassle-free way to book a mini-coach shuttle service for your next large group event. Whether you're looking for a Nashville Corporate Shuttle for a convention or trade show; a shuttle ride for your upcoming Nashville Bachelorette Party, a Nashville for shuttle service for your wedding party, or just a simple one-way ride for your party to a restaurant, concert, or tailgate, the Honky Tonk Party Shuttle is the easiest way to book a Nashville shuttle for your next event.
Our Nashville luxury shuttles are the perfect way to get your large group from point-to-point around Nashville safely and easily. Our services are offered 7 days a week and can handle most group sizes 5- 150 guests. Let us take the stress away from planning your next Nashville event. Book the Honky Tonk party Shuttle for your next Nashville Wedding, event, or party!
It's easy, it's fun and it's better than waiting for 3-4 ride vehicles to arrive if ever.